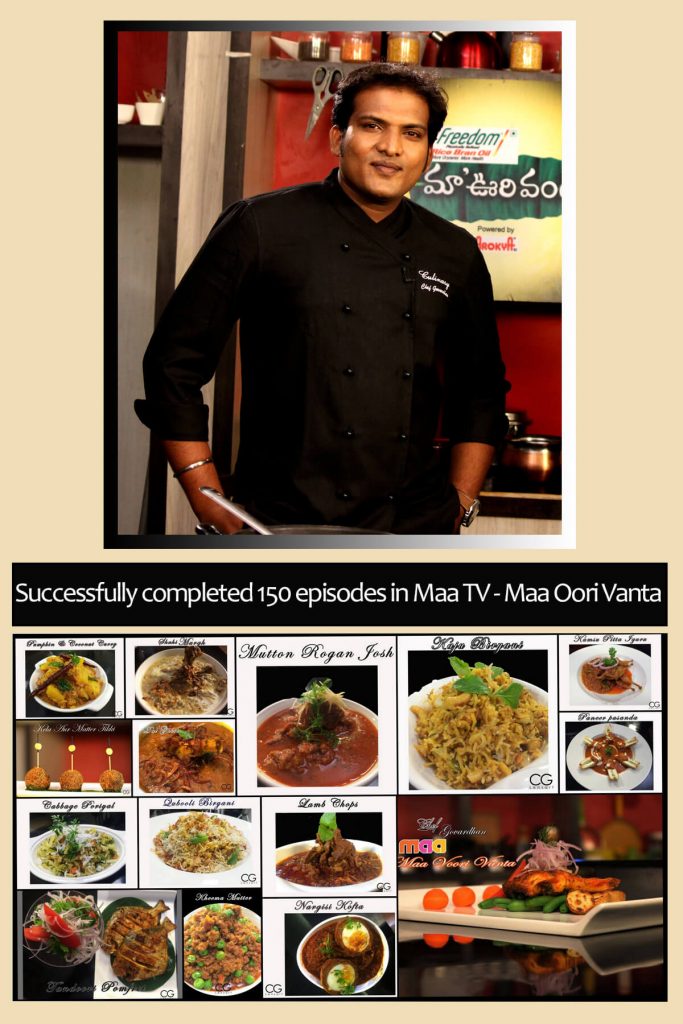 A Few Words About
Chef Govardhan
Continuing the family legacy of cooking the most relished food Chef Govardhan has emerged as a 'Master of all and jack of none.  A very balanced personality excelled in WESTERN CUISINE & INDIAN CUISINE besides Vegetable Fruit Carving, Styrofoam, Ice and Butter Sculptures as we all call it as buffet presentations.
His passion for making delicious food and also experimenting on the predefined ingredients regarding a recipe was redefined by him. All this started at a very tender age of 13years. It was then, he started to assist his mom in the kitchen, who was his first guru, he learned to explore his hidden talent. He not only cooked food but also started to carve fruits and vegetables with those domestic knives that were used in every household.
He started his carving on the tomato for the first time. This talent of his has reached such heights that present-day he carves on seasonal fruits and vegetables. He also started a Carving Institute in the year 2009.
His interest in academics was overtaken by his passion for cooking. And this igniting passion in him was first discovered by his father who thought proper training would take him to peaks in cooking. It was his Father's brave step to admit him into a Hotel Management Course though world was pursuing it's careers in Engineering and Medicine.
Guess what? His Father's decision proved to be more than right for him. He was the best in his team. Made his Father feel proud of his decision. The chef came out with flying colors. Started his career with the Taj group of hotels in, Hyderabad then shifted to Novotel Accor and worked for Marriott International.
Now associated with reputed Hotel Management institution as Culinary Connoisseur.
He took part in many competitions and won various rewards and awards. He won a Merit award in LIVE FRUIT AND VEGETABLE CARVING at EMIRATES CULINARY GUILD, DUBAI. Many more appreciations but still calm and composed.
He is a skilled professional …………….. for a customized dining experience …
Over 18 years of Culinary experience.
Also, he was invited by MAA TV to entertain and educate its viewers with his talent & skill in cooking. He successfully completed 150 episodes wherein people recognized and called him a 'Celebrity Chef'.
He is a motivational force to many students and parents who feel only academics doesn't result in successful careers. His successful on-going journey stood as an inspirational story for many who were ignorant about the fact there are so many opportunities in this world apart from regular stuff. The perfect decision taken by his father at perfect time has changed the narrow mindset of those who ignored the interest and talent of their kids and pushed them towards something they were not interested in.
Chef is still in the process of learning new things in his field as he very strongly believes that Learning is a continuous process..